Sunday, June 29, 2014
Such a unique place to hold a race. This is a half that is not a WTC race but a sanctioned private race. Quite a bit smaller and has a more intimate vibe.

Buffalo Springs is a little lakeside community east of Lubbock, Texas. Looks to be a really nice place to live. And a great place to hold a race. Too bad it's so hot. Wow, it was warm this year. I've been hotter but not by much.

Talking to a couple vendors that I know from the circuit I got asked a couple times, "how did you draw the short straw?" Well, Ironman Coeur d'Alene may be my all time favorite race so far. I worked it last year and this year it was on the same day. So, my buddy Jason Budd, who worked both CDA & Buffalo Springs last year, got to work CDA and I got Buffalo Springs.

A race is a race so I'll work 'em all. Plus, in Coeur d'Alene I'd be tempted to rent a bike and go riding there which makes my profit for the race weekend drop significantly!
Sunday, June 15, 2014
Boy, I do wish I lived in the Denver & Boulder area. In the summer that is! I like being able to drive a couple hours to snow in the winter but don't think I'd like being bombarded with it the whole winter. Snowboarding is a blast but mountain biking is better.
The Boulder half is another really nice race. A single transition makes everything much less stressful.
And, I can rent a bike and go mountain biking in the lovely weather! Rented a carbon Santa Cruz Bronson from
Wheatridge
and rode some of the Red Rock trails as well as the Picture Rock trails out around Longmont. Great riding in Colorado!
Saturday, June 7, 2014
The Boise half is another race that almost feels like a home race. The moved things around a bit at the Finish Line but everything fell right into place. Now, if they could just figure out a way to get the bikes across State Route 21 so they don't have to stop traffic! That bottleneck always makes me nervous...
Saturday, May 3, 2014
Ah... St. George. I've done this one enough that it feels like my home race which makes it seem like I'm on auto pilot. Don't even need a GPS to get around anymore!
Friday, April 25, 2014
Man, I've been itching to do this race for a while. I'm an avid mountain biker and getting to cover an MTB race is like a dream. My buddy Mike with
Action Media
had this race and I talked him into letting me work it.
So, my dream assignment starts with us scouting the course on Friday afternoon. Mike had worked this race in previous years with Zazoosh so he had some spots in mind. We found a couple possibilities and decided my spot would be after a road crossing where the riders have to tackle a small rock drop or two. I picked it because I would be able to shoot the riders riding the obstacle head on and I could mount a remote camera that would capture them from the side. Would be a great two-fer!
Got up race morning and headed out to my spot. It was cold and a little windy with the possibility of rain. Setup my remote and covered it with some plastic protection from the rain. Set my chair up with an umbrella clamped to a tripod to keep me dry. I left the umbrella closed 'cause it wasn't raining yet...
I had about an hour before I would see any riders so I sat there trying to stay warm. Which isn't easy when you aren't moving to produce heat. It started a little drizzle. I pop open the umbrella not because I'm worried about my gear, a very robust and weatherproof Canon 1D, but because I wanted to stay dry. Dry = Warm.
Before any racers have arrived it stops. I lower the umbrella and sit there shooting the breeze with a spectator that happened to have this spot in mind to bang his cowbell around at the racers.
It starts to just barely sprinkle again. Not enough for the umbrella yet, remember it's very weatherproof body, so I sit and wait for some action. Then I hear my remote firing rapidly and continuously.
"Lovely," I think. I walk over and check it out and then realize that it's not the camera or the receiver but the Pocket Wizard transmitter on my main camera that's acting up. Yeah, the camera is weatherproof, not the radio. Got just a drop of water in just the right spot on the radio to fry it. Dummy.
So, I get up and head towards my bag to get my spare and... of course... here come the riders!
All my grand plans are laid to waste in an instant.
I start shooting the riders in the slight rain. A lot of them are tentative on the obstacle. Many racers don't have much for technical skills so while I wouldn't even look twice at this rock drop some racers balk at it.
Then, it happens. The rain turns to snow. Little puffs at first. The kind that makes you say, "cool, snow." Then it start piling up. This is my remote camera: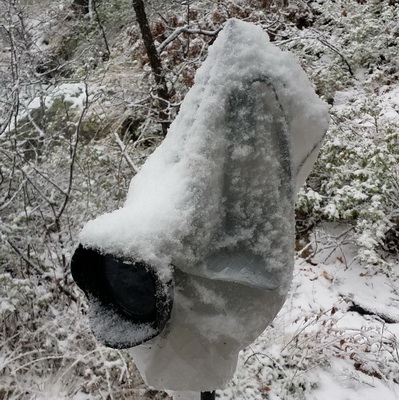 and the snowed up course: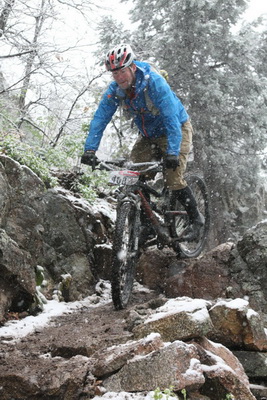 They delayed the start of the Whiskey 25 and changed the course so I wound up back at the finish line for the remainder of the day.
It wasn't what I'd hoped for but it was yet another adventure I've endured!
Sunday, April 13, 2014
Billed as Honolulu's Half Marathon, sister to the Honolulu Marathon, this is a really popular race among locals and the Japanese. This was my first year to the Island for this race and it's one of those "fun" races where the majority of people are there to have a good time. Not as many serious racers. Lot's of costumes. You get it!

It's a pretty quick race since it's a half. The downside to that is that the flights outta Honolulu to Arizona don't leave until 9p or later. That means I have quite a bit of time to sort through the 60k or 70k images me and my team will take for FinisherPix. Hopefully, I'll be back next year...
Sunday, March 23, 2014
Man, I love these obstacle races! I really wish I had some form of activity tracker on me for this race. The course was laid out in, up, through, and around a small stadium and I walked up and down that pig SO MANY times. I've walked a lot at a great many races but up and down those bleachers continually was tough! Really hope I get to come back for this one next year!
Sunday, March 16, 2014
When I originally got the call to work this race I was like, "Hell, yeah I wanna to go Monterey." Then I realized Monterrey is different than Monterey... :)

Monterrey, Mexico, is a good race. It's a single transition race that is always easier to work, especially when in a strange place. Where not many people speak your language. The area around the race is really nice. Odd swim down a 1.2 mile urban river and the run course followed a similar path along the river. Very cool backdrops for the course.
Sunday, March 9, 2014
One of my own races and as smooth as usual! It's nice working "home" races so there's no confusion about where things are and when you need to be there! I'll be back next year!
Sunday, February 16, 2014
The big cheeses at FinisherPix we kind enough to hold a FinisherPix retreat at the Panama Half Iron. So, myself and another six Team Leads met up with Robbie to go over goals for the coming year's races. And shoot a half iron!

It's hard to get a grip on what a new location is like when you see so little of it. It was pretty warm and quite humid but I figured that was gonna happen so not a big surprise.

The event went off smoothly and I got to meet a few other Team Leads that I've only emailed and chatted with. Good times! If I hadn't gotten stuck in Austin overnight due to a late flight outta Panama...
Sunday, December 15, 2013
It's the last year that Fountain Hills will host an Irongirl but it was still a great event. It went as smoothly as it always has and we look forward to working with Irongirl elsewhere!
Sunday, November 24, 2013
Had the
Rugged Maniac
race out at Firebird Raceway on Saturday. It was a 5k mud & obstacle run and those are always fun. Except the weather was threatening to make us miserable. All week long I was watching the weather and everything said rain most of the day Saturday. Showed up and it look bad most of the day but not enough rain to worry about finding the umbrella. So, it all worked out just fine.
Then on Sunday I shot the Great American Pie run. It was an easy day with a 10k and 5k and only about 300 racers between the two races. Nothing wrong with an easy day after a long day :)
Tuesday, September 10, 2013
That was an easy day but not without it's challenges. Rainy in the morning for my bike shot. With a leaky umbrella. It cleared up around 10a like weather.com said it would but then clear skies and the 90ΒΊ temperatures make it moderately hot while sitting in the sun in front of the finish line. All in all an easy day. I think I wound up with nearly 6000 bike images and on the upside of 5000 run shots. Followed all that up by a 3 hour awards ceremony and a four hour drive back to Phoenix at 9p on little sleep. Only nodded off a couple times, really a sustained blink if you will, and made it back at 1:30a to kick the dog off my pillow and climb in to let my tired, sweaty, and smelly body recuperate for a few hours before returning to the grind of normal life.
Thursday, August 15, 2013
But it's starting to pickup. I'm heading to Seattle this weekend for the Irongirl race there. I'm taking an extra day on Saturday to head out to Stevens Pass to shred the downhill mountain bike trails with some locals. Gonna be awesome. Maybe when I get back the heat will all be gone?
Monday, June 24, 2013
Well, that was fun! Got contracted to work Ironman CDA and after my first time up there two years ago I told the Mrs how beautiful it is. So, she decided to come and enjoy the area. And the rain. We got in Tuesday before the race and did some hiking, in the rain. On Friday I rented a Stumpy 29er from
Two Wheeler Dealer
and had a great time riding the very challenging Caribou Ridge #79 near Beauty Bay. It cleared up nicely for the event with just a couple sprinkles at the finish line between 10p and midnight.
I pulled an early bike shot as my first assignment which meant I got to sleep in until 5:30a. Typically, I'd be getting up around 3:30a in order to get to transition and set things up but those duties did not belong to me this time. And it was a welcome change :)
As I returned the Mrs to the airport on Friday I was telling her it'd been a while since I worked a full iron. I wasn't sure if I was gonna enjoy it because they are 20 to 23 hour days that are pretty much nonstop. But, it all went quickly and smoothly. Shot bikes, went to the finish and before I knew it it was 9p and I'd been sitting at the finish line for six and a half hours. Got to spend the remainder of the evening getting promo images of the crowd, announcers, signage, and athletes coming in at the last minute.
Still enjoyed it immensely. It's not for everyone but I have a good time doing it.
Saturday, May 11, 2013
The Third Annual
Run for the Thirsty
is in the books and images are uploaded. Now we're just waiting for the taggers to tag all the athlete bib numbers and we'll be live!
Keep checking
my backprint site
for when it goes live and you can start ordering prints, files, and other merchandise!
Thanks for having us out there today!
Monday, May 6, 2013
Just returned from a fun weekend enjoying the heat up in St George, Utah. I lead a team for brightroom in 2011 when it was a full-iron and it was nice to get back, this time covering it for FinisherPix.

These Ironman races are actually a good time even though they are some long days. At the full-iron length races we are up and working for 22 to 26 hours straight. This half-iron was only 14 hours of work but then I had to drive back to Vegas and return to Phoenix via plane so it was still a 19 hour day. But seeing these athletes cross that finish line puts a smile on your face...
Saturday, April 20, 2013
Man, I'm always surprised at how many people they can cram into a small area at once. This is one of the TOUGHEST yet shortest races I cover. 4.2 miles is not long to separate 30k people so it's literally a WALL of people coming at you for 2 hours. Tough to get good quality shots but we come back every year so they are obviously selling :)
Monday, April 15, 2013
Wow, I was supposed to be working the Boston Marathon but got stiffed at the last minute. Now I'm a little happy but I certainly hope the best for everyone including the photographers in the photo bridge right where the explosions occurred and right where I would have likely been stationed.

SCARY...
Friday, April 12, 2013
I got contracted to cover this event this weekend. The best of the college athletes converge on Tempe this weekend to see who's the best at Triathalon!

Friday is a quick Sprint Distance with the men and women competing at different times. Saturday will be longer with a Olympic Distance race for the men and women at separate times. They'll follow it up with a Mixed Team Relay.

Another fun event even though it's a little warm to be sitting in the sun taking photos and cooking my brain!
Tuesday, March 12, 2013
It's up and ready for viewing and ordering.
SW Spine Mountain to Fountain Gallery
Unfortunately, there was some kind of problem on the backend and the site defaulted to it's retail prices which, in my opinion, are ridiculously overpriced for most items. Only a handful of orders were placed before I caught the error and they will be notified of their upcoming refund. The pricing is currently where I think it's a happy medium between Wide Open making a decent profit for our time out there and you athletes not feeling like you've been raked over the coals.
If you have any feedback
PLEASE let me hear from you!
I want to hear it so I am better able to provide you athletes with a product you feel is worth the money.
Sunday, March 10, 2013
So, the 3rd Annual Southwest Spine Mountain to Fountain went off without a hitch. As smooth as any other event we've worked and the images are being uploaded as I write this. The gallery should become live by Wednesday so check
wideopenevents.org
around then for your images!
Saturday, March 9, 2013
Well, not exactly my first race, but my first race as the sole provider of photos. I'm usually working for someone else but tomorrow's race, the Southwest Spine Mountain to Fountain 15k, is my first on my own. With any luck it will go just like last year's race as well as any of the hundreds I've covered before except that this time I'll get a little more money in my pocket... :)